Company Profile
Company Profile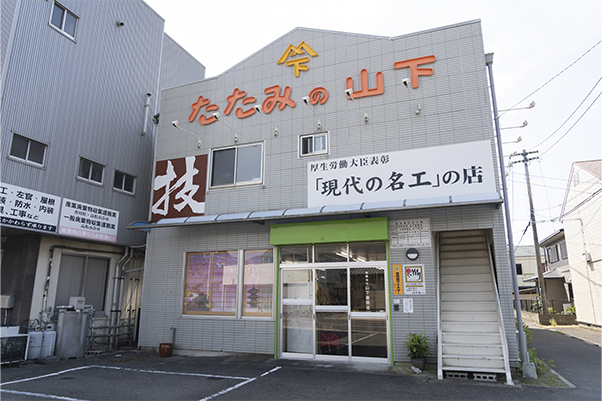 Name
Yamashita Tatami Shoten Co. Ltd.
Address
Nii 1649-5 Kokubunji-cho, Takamatsu, Kagawa
Phone
Toll-free(within Japan): (+81)0120-21-3181
Takamatsu Main Branch: (+81)087-874-0102
Mitoyo-Kan-onji Branch: (+81)0875-23-7201
Fax
087-874-6954
Founded
January 1953
Representative
Company President Akihiro Yamashita
Number of Employees
6 as of 2023
Main Business
・Creation and sale of new tatami, traditional-style tatami, tatami refurbishment, area tatami, flooring tatami, rugs, and floral rush mats.
・Long-term care insurance, home repair (installation of handrails, floor leveling, etc)
・Re-covering of sliding doors, shoji doors, screen doors, wallpaper, etc.
・Sales of curtains, blinds, roller shades, accordian blinds, carpet, area flooring, and interior decorations
・Termite extermination
・Home rennovation
Qualifications Held
■General construction business license Kagawa Governor's Approval (General Construction - 2022) #1227
[Interior Design] Construction
■ Approval for Disposal and Transportation of Industrial Waste
■ Approval for Disposal and Transportation of General Waste (Takamatsu City)
■ Career Consultant (A level): Mitsukazu Yamashita
■ Recognized Kagawan Craftsman (Traditional-Style Tatami): Mitsukazu Yamashita, Akihiro Yamashita
■ National Tatami-Making Certification First Rank:
Mitsukazu Yamashita, Akihiro Yamashita, Kohei Yamaguchi, Tatsuhiko Ozaki, Seiji Niimura, Takayuki Onishi
■ National Mounting/Binding Certification First Rank:Machiko Yamashita
■ National Mounting/Binding Certification Second Rank:Mitsuru Nakami
■ Japanese Craftsmen's Association's Tatami-Making Zengiren Meister: Mitsukazu Yamashita
■ Vocational Training Instructor's License (Tatami): Mitsukazu Yamashita, Akihiro Yamashita, Kohei Yamaguchi
■ Vocational Training Instructor's License (National Mounting): Machiko Yamashita
■ Japanese Industrial Standards Quality-Control Officer (4)
Hours
8:00~17:00
Closed
Summer and Winter breaks
Irregular closures for training
Greeting
Thanks to everyone's support, Yamashita Tatami Shoten celebrates 68 years of business in 2021 with myself as the third-generation president.
Since our company first began operating, the number of traditional Japanese-style rooms has decreased. However, on the other hand, it seems that the number of people who desire to create these rooms with high-quality materials is increasing.
Additionally, I hear that Japanese cuisine is experiencing a worldwide boom and there are many people outside of Japan who wish to enjoy a wa atmosphere.
At Yamashita Tatami Shoten, we of course put our desire to create tatami that meets our customers' needs into all our materials- the facing, core, and borders of our tatami. However, in a world with so much machine manufacturing, we also put a great deal of effort into our production process, finding a balance between the traditional method of handcrafting tatami and modern methods. We want to make real, traditional tatami that is also functional and will match the design of its surroundings.
I think we will continue to be able to bring everyone a satisfying tatami atmosphere, so please don't hesitate to contact us.
Company President Akihiro Yamashita