Materials and Products
Our Materials
We have many materials both natural and synthetic from Japan and abroad.
Let us help you find the materials that best suit your price range and needs.
Tatami facing "Tatami Omote"
Tatami facing is the top of the tatami, the material that makes up its "face."
All our Japanese-made facings have come from fields personally inspected by our staff. Please inform let us know if you would like a material used that is not listed on our site.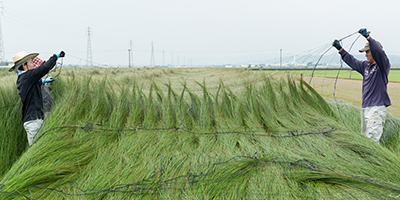 Kumamoto-Made Double Cotton Facing:YTO01

While the warp of tatami facing is typically created with a single cotton thread, this facing uses 2 threads to create a stronger weave, while the the weft made from rush grown in Kumamoto Prefecture on Kyushu. A reasonably-priced option.

Kumamoto-Made Double Cotton/Hemp Facing:YTO02

The warp of this facing uses a strand each of both cotton and hemp, allowing for a greater thickness and higher "thread" count than the Double Cotton Facing in the Kumamoto-grown rush weft for a robust and durable facing.

Kochi-Made Dosa Tatami Ryoma:YTO03

This facing is made from carefully-selected rush grown in Kochi Prefecture on Shikoku and is branded with "土佐表 龍馬" (Dosa Omote Ryoma) before shipping. It is hard to tell from the photo, but it has a more rustic feel than facings made in other prefectures. Woven with a warp made from one strand of hemp and one strand of cotton.

Saga-Made Gabai Facing:YTO04

This facing is only made by one producer in Shiga Prefecture on Kyushu. It is prized for having a particularly fine and robust quality to the rush. Our store owner is particularly taken with this facing. This is an expensive and exclusive facing, so interested customers let us know as soon as possible.

Kumamoto-Made Cotton/Hemp (Hemp/Hemp) Double Special Facing:YTO05

Made of carefully-selected rush from Kumamoto Prefecture with double hemp strands for a more robust facing when compared with the Double Cotton/Hemp Facing. Beautiful and durable, perfect for customers who aren't sure which to choose.

Kumamoto-made Hinosarasa:YTO06

Kumamoto's highest-quality brand: Hinosarasa. The owner only uses the best quality rush available in the prefecture.

Hiroshima-made Bingo Omote Select (Wide):YTO07

Produced in the Fukuyama region of Hiroshima prefecture, long known for its high-quality rush. The natural feel, gentle scent, durability, and resistance to fading make this a top-class product.

Hiroshima-made Bingo Omote Mid-Seam Facing:YTO08

Different than regular tatami facing, this brand uses a special weaving method that prevents the weak portions of the rush from appearing in the top of the facing (the tip of the rush is weaker than the root). Used in important cultural assets and particularly formal settings, this is an expensive and exclusive facing, so interested customers should let us know as soon as possible.

Chinese-made Double Cotton Facing:YTO09

An inexpensive and easy-to-obtain option. While less attractive and less durable than Japanese-produced facings, it is sufficient for those seeking to create a wa atmosphere.
In addition, we have special and created tatami facings available:
・Oita-made Shichitoi Facing
・Szechuan-made Shichitoi Facing
・Daiken Washi Paper Created Facing
・Sekisui Synthetic Facing

Please inform our staff if you would like a material used that is not listed on our site.
Tatami Cores "Tatami Toko"
The tatami core is the heart of the tatami and affects the way it responds to being sat upon or stepped on; it also affects durability. From traditional straw cores, to synthetic cores, to hybrid cores made from a mix of the two, we have a wide variety of cores for you to choose from.
Rice Straw Core (Stitched Base):YTD01

A traditional-style, high-quality core made from rice straw grown in Japan and secured at the bottom with coarse tatami facing. The most durable option which uses heavyweight straw.

| | |
| --- | --- |
| Max Size (1 Mat) | 980×1960mm |
| Thickness | 53~62mm |

Rice Straw Core (Hemp Cloth Base):YTD02

The bottom of this core is covered in hemp cloth, helping to reduce humidity underneath the tatami. This is a solid core using high-density rice straw.

| | |
| --- | --- |
| Max Size (1 Mat) | 980×1960mm |
| Thickness | 53~62mm |
| Special-Order Thickness | 28~52mm(Extra charge) |

Rice Straw Core (6 Layers):YTD03

A core made from typical rice straw. The quintessential feeling of tatami. The bottom is covered with an anti-insect sheet.

| | |
| --- | --- |
| Max Size (1 Mat) | 980×1960mm |
| Thickness | 53~62mm |
| Special-Order Thickness | 28~52mm(Extra charge) |

Rice Straw Sandwich:YTD04

A three-layer construction made from rice straw and polystyrene foam. It still retains the tatami feel of a straw core, but replacing much of the straw with insulation makes this core very reasonably priced.

| | |
| --- | --- |
| Max Size (1 Mat) | 980×1960mm |
| Thickness | 53~62mm |

Straw Beauty:YTD05

A two-layer construction of rice straw and polystyrene foam. Building the bottom of this core with insulation helps reduce humidity underneath the tatami mat. The upper layer of straw makes tatami made with this core pleasant to tread upon. Perfect for concrete floors.

| | |
| --- | --- |
| Max Size (1 Mat) | 980×1960mm |
| Thickness | 53~62mm |

Construction Core:YTD06

Made from Insulation board and polystyrene foam, this triple-layer core is created without any rice straw and is increasingly common lately. Lightweight but sturdy, this core is bug-resistant and accessible.

| | |
| --- | --- |
| Max Size (1 Mat) | 1000×2000mm |
| Thickness | 13~60mm |
Tatami Borders "Tatami Heri"
The tatami border has a great deal of impact on not only the tatami itself, but also the room as a whole; that's why we have a variety of border options to suit customers' tastes and cultures. It can be a lot of fun to try different patterns, widths, and materials to coordinate your tatami with your vision. We may be able to use borders not found on our site, so please contact us if you do not see your desired border.
Honasa Kitayama
Woven from hemp. These borders have the unique appearance found only in hemp fabrics. A high-quality item perfect for tatami rooms and tearooms.
Shikkoku:YTH01

Odo:YTH02

Gunjo:YTH03
Kyoyamato Pure Cotton
Woven from pure cotton, these meticulously-made, beautiful borders will improve the appearance of the tatami facing as a whole.
Black:YTH04

Navy blue:YTH05

Chestnut:YTH06

Bluish Purple:YTH07

Iron navy blue:YTH08

Tamao:YTH09
Standard Lineup
Made from polyethylene, polypropylene, and other synthetic fibers. These durable borders have a variety of designs and colors to choose from.
Ishida No.13:YTH10

Ishida No.23:YTH11

Ishida No.31:YTH12

Ishida No.41:YTH13

Asanoha Golden:YTH14

Asanoha Orange:YTH15

Asanoha Genuine Purple:YTH16

Asanoha Sumi:YTH17

Haruka No.10:YTH18

Haruka No.20:YTH19

Haruka No.30:YTH20

Tomoe No.1:YTH21

Tomoe No.2:YTH22

Sengiku:YTH23

Narihira:YTH24

Kurashiki No.50:YTH25

Kurashiki No.60:YTH26

Kurashiki No.70:YTH27

Kurashiki No.80:YTH28

Always No.61:YTH29

Always No.63:YTH30

Sharaku No.20:YTH31

Sharaku No.30:YTH32

Sharaku No.40:YTH33

Universal No.210:YTH34

Universal No.220:YTH35

Universal No.230:YTH36

Universal No.240:YTH37

Florence No.110:YTH38

Florence No.120:YTH39

Florence No.130:YTH40
See More Designs (Maker's Catalogue)*Japanese only
We also have goods for tokonoma, shrines, and temples.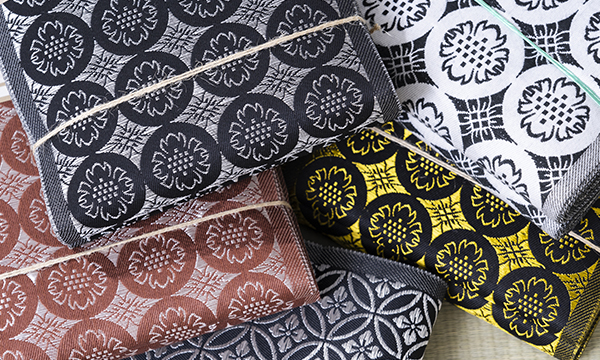 Manufacturing Methods
Our manufacturing methods are divided into primarily handmade and primarily machine-made methods. Typically the method of manufacturing is determined by the materials, but we are able to alter the manufacturing method to suit each customer's desires. Handmaking creates a stronger and more beautiful tatami. The machines we use in our machine-making process are specially designed for manufacturing tatami; while this allows for a lower production cost, it also means that the tatami is reinforced uniformly, allowing the portions which are inherently weaker to deteriorate more quickly.
Completely Handmade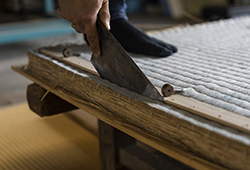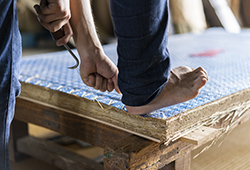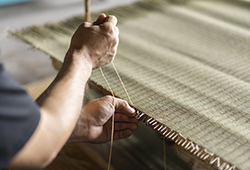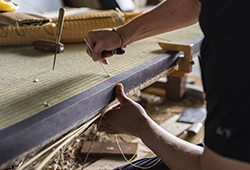 From cutting to final assembly, everything, even parts which will be hidden in the final product, will be made entirely by hand. Handmaking the tatami allows us to add additional straw to the borders of the tatami where it is more likely to sink over time, increasing durability and ensuring that the final product will be beautiful and perfectly flat.
---
Completely Handmade with Additional Supports
During production we will insert boards made from Japanese cypress around the borders of the tatami. This helps to prevent the edges from sinking over time, and further increases durability. Even after a long time, the tatami will maintain the shape and beauty of newly-made tatami. Even when the facing has aged sufficiently to require refurbishment, the core will be largely unchanged.
---
Completely Handmade, No Border
Borderless tatami for use in martial arts, etc. *This option may not be available for all materials.
---
70% Handmade
When complete, 70% of the visible product will be handmade, with the remaining 30% having been machine-made. We will entirely handmake the edges using the same stuffing process as in our 100% handmade tatami to ensure that the finished product will be more durable than entirely machine-made tatami.
---
Machine-Made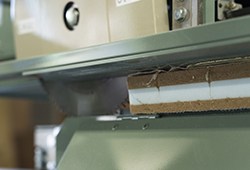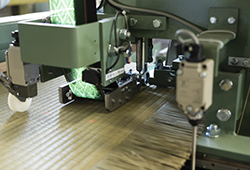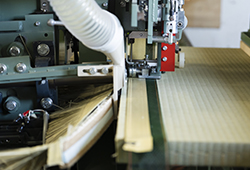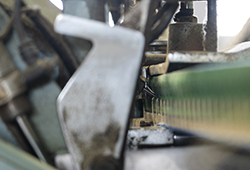 From cutting to assembly, every stage of manufacturing will be done by machine.
---
Machine-Made, No Border
Machine manufacturing without a tatami border. *This option may not be available for all materials.
Original Goods
Various goods made from tatami materials are available for purchase through our online shop.